Topicality
Charo Marín Website Launch 2012
11/10/2012
Charo Marín has put all her hopes and professional aspirations to reach the general public in the hands of to the prestigious Valencian ICT´s company Ecran that has just launched her website. This digital space represents a new and different way of presenting the artist´s works in her career.
see more
Jewels for the opera
11/10/2012
As a great music lover, the artist has always got inspiration from famous operas such as Tristan and Isolde, Romeo and Juliet, Madame Buterfly. A commission from the Garnier Opera in Paris gave Charo Marín a boost to create this unique collection.
see more
LIBROS
On sale the book "69 Ways to Wear a Shawl"
INTERNET
Charo Marín will have her own space in the new Anagma website
FENG-SHUI
Kariboo Garden, Feng Shui style in the centre of Valencia
ARTE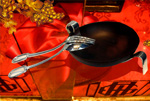 Charo Marín appointed rapporteur for coming cultural soirée
JOYAS
Wedding rings with soul